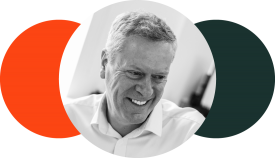 Derek Smith - Managing Director
Derek has worked in financial services since the late '80s, with product provider organisations such as AXA and Scottish Widows and in client facing roles. Before joining Cavendish Ware he spent 5 years providing consultancy advice to IFA businesses before establishing and running his own IFA practice in Edinburgh.
The last three decades have provided him with him invaluable experience of supporting clients through the ups and downs of various market cycles and changing tax regimes. Having always held professional development as a priority he is a Chartered Wealth Manager and is MBA qualified.
Derek has many years' experience of helping clients achieve their financial goals by creating plans that put a strong emphasis on practicalities and eventual outcomes. Particular expertise includes investment and pension planning for individuals and small to medium sized businesses. Derek is married to Letitia and has a son and a daughter at university. His interests include sailing, travel and following the glorious achievements of Heart of Midlothian.