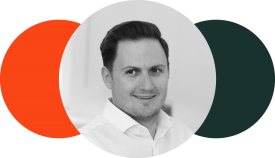 Kyle Glowacki - Financial Adviser
Kyle joined Cavendish Ware in November 2018 as a financial planner, was promoted into the advisory team in January 2021 and is now quickly building a portfolio of clients. Kyle works closely with executives, freelancers, business owners and happily retired clients. He is also the lead on our new partnership with WorkLife, a digital platform for SMEs allowing them to offer a full suite of employee benefits and supporting financial advice and wellbeing tools to their teams.
Originally from South Africa, Kyle has worked in the financial services industry for the last 10 years. He has completed his level 4 Diploma in Regulated Financial Planning through the CII as well as the level 4 Investment Advice Diploma through the CISI, where he has achieved the Certified Financial Planner (CFPTM) status.
Outside of work, Kyle spends most of his spare time around the "braai" with friends, watching his favourite South African sports teams on tv, or trying to get fit with Arthur his King Charles Cavalier.