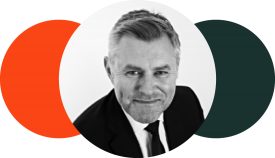 David Healy - Associate Director
David started his career in financial services straight from Kingston Business School in 1997. His journey to Cavendish Ware has taken him to national advice businesses, regional brokerages and boutique wealth management practices where he feels most at home and where he feels the best quality advice and client service can be found. "I am client centric and solution led so for me its the difference between being a client or being a customer".
David's clients have differing backgrounds and experiences but over many years his practice has evolved to serve the needs of barristers, partners in professional practice, senior directors, business owners, ex business owners and members of the medical profession.
David is an accomplished holistic financial planner but one of his key specialisms include Tax Advantaged Investment solutions and planning.
Away from the office David has an obsession with horology, is a big supporter of Irish Rugby and is a long suffering Liverpool fan (although he is at pains to remind us that his 'thirty year wait is finally over'). David is a big foodie and wine buff, loves movies and tech and has a life long interest and passion for all things 'shark' related which his son now shares.
david.healy@cavendishware.co.uk
07943 190935